Coal 101: What is Anthracite?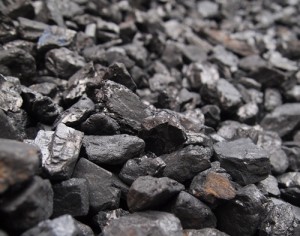 Anthracite is a type of coal that is made almost entirely of carbon, and as a result is much harder than other forms of coal.
Its low pollutant content allows it to burn cleaner than other types of coal, according to United Coal Holdings (TSXV:UCL), an ability that makes it preferred in many applications. As a result, companies that mine it tend to advertise those capacities.
How is anthracite used?
Anthracite is mainly used for heating — while it's difficult to burn, anthracite produces more heat than other varieties of coal. It is also a common charcoal ingredient. By itself, anthracite is used in steam-based power generators and in liquid form can be used to power internal combustion engines. Anthracite also plays a role in steel production, and is often used to make coal-fired food.
Despite these myriad uses, anthracite does have some disadvantages. For instance, it is quite expensive due to its high quality, and as such isn't often used in power plants or as a replacement fuel for gasoline. It's also difficult to ignite, though for industrial applications that barrier is easy to overcome.
Where is anthracite mined?
Anthracite is most commonly found in mountainous regions, as well as near volcanoes and in areas where earthquakes are the norm. Unsurprisingly, there is a large supply of anthracite in the Appalachian Mountains in the United States, with 6 billion tons in that region alone, as per United Coal. There are also reserves in the Rocky Mountains and the Andes.
In the US, Pennsylvania, which is located in the Appalachian region, is the state with the highest anthracite production, Coal Diver states. Though production declined precipitously in the late 1990s and early 2000s, the region still produces plenty of the fuel — in 2010, the figure was 1,842,857 tons of anthracite. That is a decrease from 1998′s record of 5,234,201 tons, but it is still a significant amount of anthracite.
Which companies mine anthracite?
Reading Anthracite is a private Pennsylvania-based mining company that was established in 1871. It concentrates on the mining and distribution of anthracite for many purposes, and delivers standard or custom anthracite to industrial clients that need high-grade carbon. The company also provides products for space heating and water and sewage filtering.
Reading's projects are surface-mining sites in Pennsylvania, and one of the company's aims is to make sustainable reclamation plans for each of them. To date, its reclamation projects have resulted in wildlife sanctuaries, parks and housing developments.
Blaschak Coal, also a private company based in Pennsylvania, was founded in 1937, acquiring its first mine in 1945. It is one of the top anthracite producers in the US, and produced close to 1 million tons of raw coal in 2012. It holds three mines and two processing facilities.
The company obtains land that was previously mined and reopens it for use in production. Like Reading Anthracite and other coal producers in the area, Blaschak ensures its projects are slated for reclamation after they close, turning them into forest land in most cases.
Lehigh Anthracite, another Pennsylvania-based company, is a joint venture between Robindale Energy Services and BET Entities, both of which are privately owned. The company mines from the Mammoth, Forty-Foot, Primrose and Orchard seams at the Lehigh anthracite mine, which is the largest surface-mining permit in Pennsylvania. It processes its products on site and has the capacity to produce up to 500,000 tons of anthracite yearly.